BIOS Setup¶
Auto Power-on¶
To enable LattePanda to power on without the need to press the physical power button, kindly adjust the BIOS settings as follows:
Path: BIOS Setup → Advanced → Power Management → AcPowerLoss (Navigate to the location and set the AcPowerLoss option to Power On.)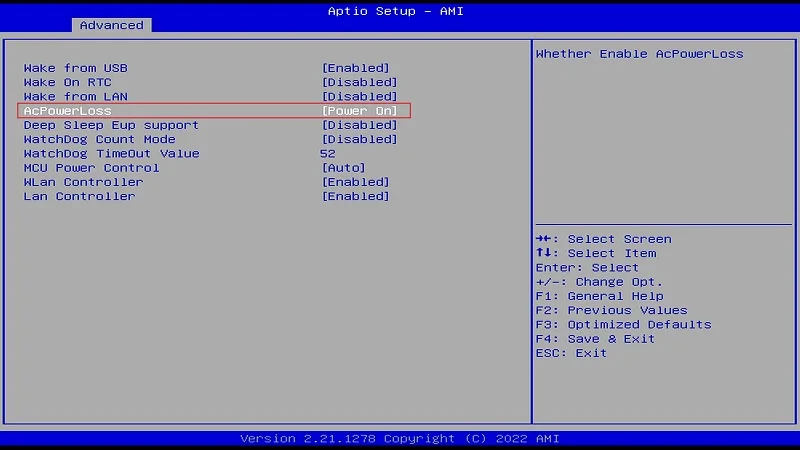 Please note that the default setting is Power Off.
Warning
When the RTC battery's charge is depleted, the Auto Power-On function will not work. Hence, it is crucial to ensure that the RTC battery is adequately charged to maintain its functionality.

The LattePanda 3 Delta comes equipped with an onboard CR927 RTC battery, with a voltage of 3.0V, capable of maintaining power for around 9~12 months.You could refer to External RTC Power Pin Chapter to connect an external large-capacity RTC battery.
Please disable the Deep Sleep EUP Support feature to ensure smooth operation of the Auto Power-On function.
If your project needs innate support for auto power-on function on LattePanda 3 Delta, impervious to the influence of RTC battery power and BIOS configurations, kindly reach out to LattePanda Business Team for personalized consultation.